As you can see on the download page of the site, there are two versions of the software available.
This topic is there to help you choose which version best suits you.
First, a little explanation to find out why there are two versions :
The terms 32-bit and 64-bit refer to how your PC's processor processes information. It mainly depends on your operating system (Windows).
To make this very basic a "Windows in 64 bit" will send a packet of 64 bit (Binary unit = 0 or 1) to your processor for each calculation.
It is therefore faster to calculate than a version of "Windows in 32 bit" which will only send 32 bit packets to your processor.
All software (and therefore TidyTic) also works the same way.
In most cases, 32-bit software will work without problems on a 64-bit Windows. Ideally, if there is a 64-bit version of the software, it is advisable to install it because it will be more efficient.
Nowadays most PC run on 64bit, but some still run on 32bit.
The question is therefore how to know on which version your Windows is running in order to take the most efficient :
Windows 10 :
- Open a File Explorer window by pressing Windows Key + E.
- On the left, right-click This PC.
- In the context menu, select Properties.
- In the System Properties window, find your System type, which lists your operating system and CPU type.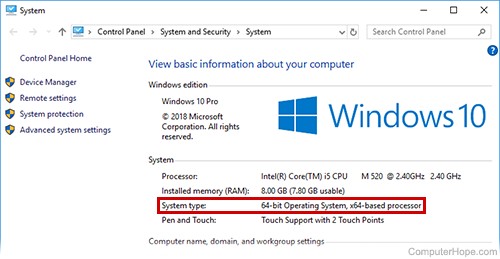 Windows 8
- Go to Control Panel
- Select System
- Look for the "System type" entry to see whether your operating system and processor are 32-bit or 64-bit.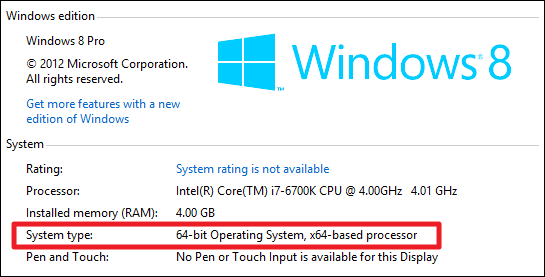 Windows 7 or Vista
- Hit Start.
- Right-click "Computer" and then choose "Properties"
- On the "System" page, look for the "System type" entry to see whether your operating system is 32-bit or 64-bit.